Welcome to learn and experience Sapmi Nature
Hosted Sami experiences
Sapmi Nature Camp is a personal, sustainable and small-scale camp that offers Sami glamping, hosted in close to nature accommodation in the Laponia World Heritage Area, between the towns of Gällivare and Jokkmokk, above the Arctic Circle.
Because this is a small-scale, sustainable business, it is only between 2-10 guests here at the same time. This is far from a large-scale resort or impersonal mass tourism. Sami glamping in our way is personal, comfortable and an authentic Sami experience. Here you keep the fire burning with birch wood in the stove and the lighting comes from solar panels, candles and kerosene lanterns.

Standard Lavvu
The standard lavvu tents (that looks like a tepee) have wooden floors, are furnished with comfortable double beds, stoves and cosy furnishings inspired by nature and the Sami culture. These tents share facilities such as shower, sauna and incineration toilet within the camp. At night, a powerful automatic stove heats your room so you can sleep all night – regardless of the outdoor temperature.

New Lavvu Deluxe
Brand new deluxe lavvus are ready for you! These lavvus differ from the standard tents as they have been designed exclusively for Sápmi Nature Camp. The Lavvu sits atop a significantly upgraded base with timber walls up 2 meters providing extra warmth and a lovely feeling from both the outside and inside. Drawing on Scandinavian design and Sápmi culture these lavvus offer the comforts of a hotel room with the charm and special feeling of staying in a lavvu. Equipped with ensuite toilets, automatic wood heaters and battery power these new lavvus are sure to keep you comfortable whilst out in the heart of nature.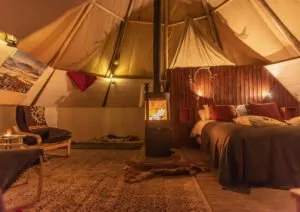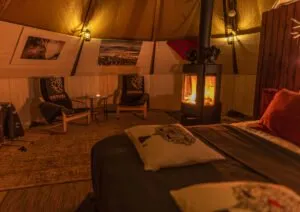 These self-guided experiences are all included in your stay
Experiences and activities
We have a number of self-guided experiences that will let you enjoy nature and Sami culture even more when you stay here.
These activities are all included in your stay and they are just examples of what you can do when you stay here.

Experience the Aurora
Sapmi Nature Camp is tucked into nature and there is no light pollution anywhere around the camp. Even lower Aurora activity is often visible here.
Just step out of your room and enjoy this as much as you like.

Traditional skiing in winter
Nothing is more authentic than donning a pair of traditional wooden skis and heading out into the cultural landscape to explore the nature around you.
We have prepared a route that will take you out in unspoiled winter wonderland. You will receive a short introduction to the art of skiing before you go – this is the original Sámi way of traveling this area and you will understand why the skiis are so important to the Sámi people. No previous ski experience is required.

On snowshoes in Laponia
Trek along a prepared trail that will take you out on a round tour close to the camp on the frozen river Stuor Julevädno. Or just find your own way.
This is an easy-to-moderate activity for guests staying with us and we will provide snowshoes and poles for you to use.

The wildlife and the cultural landscape
Seeing, feeling and experiencing the natural landscape and surrounding wildlife is an experience that is unavoidable as part of a stay at Sápmi Nature Camp.
From the bird feeding station at the camp that gives you the chance to see Siberian Jay, Willow tit and Siberian Tit to the majestic Golden Eagle and Sea Eagle around Stora Sjöfallet that we might be lucky to see on a day up in the mountains. Moose and reindeer are living here. During our walking on ski tour around the camp, we will look for tracks in the snow and learn more about nature, snow and wildlife in this nature reserve called Sjávnja.
Optional extras
Additional activities
If you would like to further enhance your stay at Sápmi Nature Camp then there are a number of activities we can suggest and provide to give you an amazing experience. Here are a small selection but remember; as we are small scale and personal – if there is something you'd love to do that you cannot see here then please just get in touch to ask!

Meet the reindeer
During your stay, you will get the opportunity to meet a genuine reindeer herding family and their reindeer. This gives you a unique possibility to learn more about the real life of a reindeer herdsman as well as get up close to the animal that is the foundation for Sami life – the beautiful reindeer.

Sauna experience
Sauna, or bastu in Swedish, is part of the way of life in the Arctic. It used to be a necessity, now it is a rich part of the culture and a great way to relax. A beautiful sauna cabin overlooking the lake is included in the deluxe Lavvu stay and can be rented during your stay at the camp in a standard Lavvu.
As well as enjoying time in the heat inside; you can also enjoy some local snacks and drinks served as part of the experience.

Ice fishing
Have you ever tried ice fishing? Sapmi Nature Camp is located along the shore of a Lule river with good chances to catch fish. And the good part is right outside your room in nature!
We will provide what you need in terms of equipment and fishing license and we will of course show you some good places to catch a fish.

Stora Sjöfallet nature and hiking
Join us on a day in the mountains! We will drive to Stora Sjöfallet National Park (apx 45 mins) and spend a day in nature in this beautiful place. Nature is spectacular here but it is also in the heart of the Sami cultural landscape.
We will have a couple of possible hiking trails to choose from for hiking and we will stop and visit the nice visitors centre for this part of the world heritage area. The cafe there is perfect for a fika.
What is the cost of a stay?
It varies a little over the year. Prices start from 2500 sek/person/night in a shared standard Lavvu. A stay is always hosted and price includes accommodation, meals and rental of winter equipment such as warm winter clothes, skis and snowshoes. Read more about what activities are included
Terms and conditions
Our full terms and conditions can be found here:
Reviews
Some of my fantastic guests have made their reviews, thank you so much for taking your precious time to do it! I am delighted to read how much you have enjoyed your stay here. And if I could review you as guests – you are all beyond excellence and I am sure that I have the best guests, and together with you, I have the best job in the world!
Memories of a Lifetime
We had an amazing experience staying at the Sápmi Nature Camp! This is definitely full-service glamping, but with the additional benefit of sustainable tourism and the chance to understand Sami culture and past and present challenges.
Our tent(lávvu) had a very large comfortable bed and a wood burning stove. It was an incredibly comfortable experience and we loved lighting the fire in the morning and nights and just sitting there together.
Read the full review on TripAdvisor
At Sápmi Nature we became immersed in the Sami culture and their way of life.
We slept in a platform tent (lavvu), fed reindeer, photographed moose, skied on a frozen river, relaxed in a sauna, and experienced the wonder of the aurora borealis.
However, meeting Lennart Pittja, the founder of the camp, was the highlight. Lennart is Sami and he wants his guests to understand Sami history, lifestyle, and challenges.
Read the full review on TripAdvisor
We spent an excellent couple of nights here as part of a small group escorted tour. Lennart, our host, was very friendly, informative and welcoming. He cooked us some excellent meals and talked to us about the Sami community, their lifestyle and culture.
Read the full review on TripAdvisor
What a wonderful time we had at the Sapmi Nature Camp! Lennart is an warm and genuine host, with a real passion for sharing his knowledge of the Sami way of life and for taking excellent care of his guests.
The camp is very peaceful and I can definitely say that the night spent sleeping in the lavvu was more comfortable than some hotels that I have recently stayed in. The bed was very comfy and despite the snowfall outside, the lavvu was well heated throughout the night.
Lennart ensured that we were well fed during our stay, giving us the chance to try homemade reindeer jerky, delicious arctic char that he had caught and smoked himself, and the wonderful cheese quiche.
As for activities, we tried cross-country skiing for the first time and despite our initial reservations, we really enjoyed the experience, following a well marked route. We also were able to travel just a short distance from the camp to see some wild reindeer and moose, a real treat given how difficult it can be to ever see moose (we saw about 7 of them).
The real highlight of the visit was hearing stories of the Sami way of life and history of reindeer herding in Sapmi. We shared lots of good conversation in a relaxed and authentic environment. This was definitely not your average tourist experience and Lennart has worked hard to make the camp a really special place to visit. Thank you!
Read about their stay at TripAdvisor!
Der Aufenthalt im Sapmi Camp war absolut traumhaft!!! Perfekt von A-Z mit einem unglaublich symphatischen und kompetenten Lennart! Was wir bei ihm über die Sami-Kultur erfahren haben war einmalig. Sein Essen sehr authentisch und schmackhaft. Das Schlafen im Zelt mit Ofen war ein super Erlebnis. Seine Sauna die schönste der Welt. Die Skis in tip toppen Zustand und wir haben den Ski-Ausflug mit ihm über den See sehr genossen. Unbedingt weiter empfehlen!
I try to translate it:
The stay at Sapmi Camp was an absolute dream! Perfect from a to z with an unbelievable sympathetic and competent Lennart! What we learned from him about the Sami culture was absolute unique. Food was very authentic and tasty. Sleeping in the tent with the stove heating was a superb experience. His Sauna is the most beautiful in the world. Skis in perfect shape and we very enjoyed the ski-tour on the lake. definitively recommendable!
Read about Nancy's and Bert's stay in January 2020 at TripAdvisor
Sapmi Nature is a magical place located on the shore of a quiet lake. My husband and I stayed for two nights in one of Lennard's tipis and it was very cozy. Lennart is a kind and gracious host and went out of his way to make sure we had a great stay. He is Sami and we learned a lot about his culture while enjoying dinner. We ate all our meals there and let me tell you, he is a fantastic cook!
We got to try local specialties such as reindeer, trout, arctic char and smoked ptarmigan. There are also vegetarian choices. The surrounding area is breathtakingly beautiful with no other houses around. It is as if you have the lake to yourself! We went cross country skiing over the lake and into the nearby forest. Later Lennart made us a lovely lunch of reindeer sausage, steaks and potatoes outside on the grill.We saw many reindeer while we were there along with ptarmigan and red fox tracks in the snow. That night Lennart got the sauna going and it was a wonderful treat after a day of activities. The sauna has two large windows that face the lake. You couldn't beat the view or the privacy. If you are looking for an authentic and cultural experience in nature this is the place to go!
Read about Nancy's and Bert's stay in January 2020 at TripAdvisor